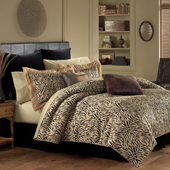 Okay, really slim pickings in the bizarre file in eBay today, so, I just bring you mildly tacky instead of bizarre. But, if you believe everything you read, you too can save yourself hundreds of dollars and purchase this
animal print bedding
on eBay for under $40 (with shipping), vs. the retail price of $450.00.
Something like this is often a little bit suspect
, and also you'd have to be very careful about how they word stuff. They say "comparable," which doesn't necessarily mean that it's the exact same item that would normally retail for over $400. Plus, what's there to say that the $400+ bedding set would include more things (ie: higher thread count, more pillow cases, etc.) than the one in the listed set?
Caveat emptor, as always, folks. Proceed and bid with caution.